In collaboration with student leaders, the offices of Campus Life aim to enrich the lives of students through meaningful engagement in student organizations, service learning, campus activities, community and civic engagement, recreation, and leadership development. The Division of Campus Life encompasses the offices of the Vice President of Campus Life, Campus Recreation, Chaplain, Counseling Center and Safe Office, the Dean of Students, Finance & Operations, Learning Assistance Center & Disability Services, Office of Wellbeing, Residence Life & Housing, Student Health Service, and University Police.
Professionals in these offices are devoted to assuring that students take advantage of their time at Wake Forest in ways that explore their full potential for growth and learning within a nurturing environment that promotes meaningful connections with our community and allows students to consider and realize their future aspirations. These professionals serve as teachers, advisors, coaches, counselors, physicians, and mentors in a variety of settings.
OUR MISSION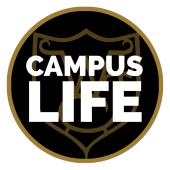 Preparing students to lead lives of meaning and purpose.