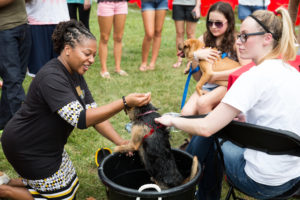 Lately, there's a lot of talk about self-care and wellness and what that means to the individual. For some, it may be a massage- for others, cooking or experimenting with a new recipe. Maybe it's a workshop to build a new skill and help boost your confidence at work. Regardless of your personal approach to living well, you'll find resources to assist while at Wake thanks in large part to the work of Malika Roman Isler, the Director of Wellbeing.
Malika's work centers on "designing programs and building structures that help people work together on the wellbeing issues that matter most to them." This focus is the driving force of the Office of Wellbeing, with its mission of "making wellbeing a part of every experience in the lives of our students, faculty, and staff." Within their day to day work, Malika and staff  "ensure they [Wake Forest community members] have the necessary tools and resources" for each of their individual wellness pursuits.
"My path has included doing this work as a researcher, as a practitioner, and as an administrator. "
Following her degree in Health and Exercise Science from Wake, Malika went on to earn a Master of Public Health from the University of South Carolina, and a PhD in Public Health from the University of North Carolina at Chapel Hill. Between her time as a research administrator and faculty member at UNC-Chapel Hill and here at Wake Forest, she's worked over 15 years to integrate health research and programming for various communities. In her own words, her personal experiences are met at Wake with an "institutional commitment to wellbeing and range…of collaborative partners."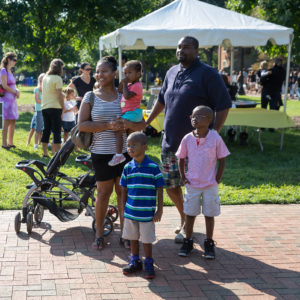 Embracing a healthy approach to work/life balance, time spent away from the job is with her husband and three children. Taking her knowledge and the life-lessons garnered thus far, she's also involved in youth mentoring programs for middle and high school girls.
"Student Affairs, and Campus Life specifically, is a continuation of my commitment to this work with a community that lifts health and wellbeing as an institutional priority."
"I'm most excited to apply creativity to programs that add value to the lives of our students and employees", says Malika. Day-to-day, Malika and colleagues work on the creation and execution of programming and resources across the 8 areas of wellness that the campus-wide Thrive initiative highlights for the Wake Forest community. Creativity is a crucial part of this work and serves in the development of the variety of wellness offerings now available to the Wake community, such as the previously mentioned massage therapists available on campus and weekly cooking lessons.
The next time you're thinking about what you want to tackle next in your personal wellness, stop by the Sutton Center for a Wellbeing Coaching session with a staff member who is happy to assist in making those plans a reality. As Malika notes, it's this work that fuels her work and aims: "the opportunity to help make a vision come to life!"