Who We Are is an interview series across our leadership team exploring the stories and insights of those who shape the Division of Campus Life.
This week we get to know Dr. James Raper, Director of the University Counseling Center.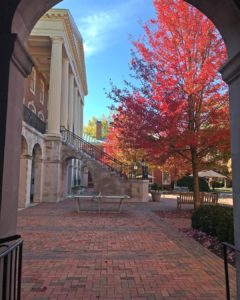 If you've found yourself walking around campus somewhat aimlessly just to take it all in, you're not alone. "Most days you can see me taking at least a few minutes to stroll around" – the on-foot accessibility of beauty is part of what drew Dr. James Raper, the Director of the University Counseling Center (UCC), to a career at Wake Forest.
Alongside these walks, his "passionate colleagues", and the "eager students" he supports, James is drawn to the goal of exploring meaning and purpose in student's lives, the crux of the division's mission statement. "Late teens/early adulthood is the time when our brain is developed enough to begin really contemplating these questions of 'who am I and what do I want and need?'" With a background in existential psychotherapy, James leads the charge in helping students begin to tackle these timely questions.
"It's been sixteen years since I started working at the University Counseling Center and I still love it".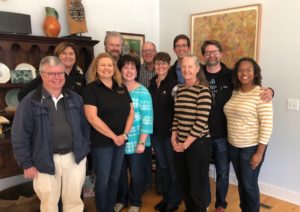 James began his career with work in a psychiatric hospital, going on to earn a Master's degree in Counseling from Wake Forest and entering the UCC at Wake as a staff counselor in 2002. He later received a PhD in Counseling from Syracuse University. After a "great experience" as an RA in his time as an undergraduate student, "a college counseling center seemed like a natural fit for me."
James was named Director in 2014, with a typical day often including "a therapy session, helping to coordinate urgent care for a students in need, clinical supervision of the UCC's mental health providers, consulting with a faculty/staff member or parent, and a variety of strategic planning and implementation meetings that include the need for a mental health perspective."
Outside of the office, when he's not taking his regular walks around campus, James spends time with his partner Paige and their two sons. "Becoming a parent is probably the best thing that has ever happened to me, and I really find it to be a blast." He's a self-professed music lover with tastes that span multiple genres, but if pressed singles out John Coltrane as a favorite. He enjoys reading about history, documentary films, and loves photography.
"The most fundamental part of the UCC is that any student can access us for any reason – it doesn't have to be a crisis"
James's commitment to his role and the work of the University Counseling Center stems from his love of the scope of what he and the staff work to achieve: both the intimate interactions in "creating a safe space to listen to a particular student's story" and the campus-wide initiatives of "developing community-level educational mental health interventions for graduate and undergraduate students".
"Our fundamental struggle is to find meaning- and that's a lifetime of work that is never completed," says Raper. It's work that doesn't have to be done alone, though, and those visiting the University Counseling Center will find "a safe space with someone who will unconditionally accept them and listen and support them. Then we will both figure out together what comes next."